In a game that seemed like the Caps had no business even being in, from goalie changes to injuries or being down the majority of the game, the Caps still found a way to be competitive against the undefeated Florida Panthers (there were still a bunch of empty seats, great fanbase they have there in Florida).
Before the game even started the listed starting goalie was Samsonov, but he missed the start of the game due to undisclosed reasons, then came out after the Montour goal. Sammy can't seem to get out of his own way sometimes. Then you have stud Sergei Bobrovsky who has a stellar first period then he left out of nowhere before the second period. So just like that both teams were left with their backups which in both teams cases isn't a big deal because Florida has Spencer Knight and the Caps have Vanecek both two very competent goaltenders.
The Caps defense looked really shaky in the first period, especially John Carlson who didn't play like himself at all in the first. Carly still was able to have a nice deflection assist on Wilson's goal right before the second period ended.
Oh you know that guy Alex Ovechkin?!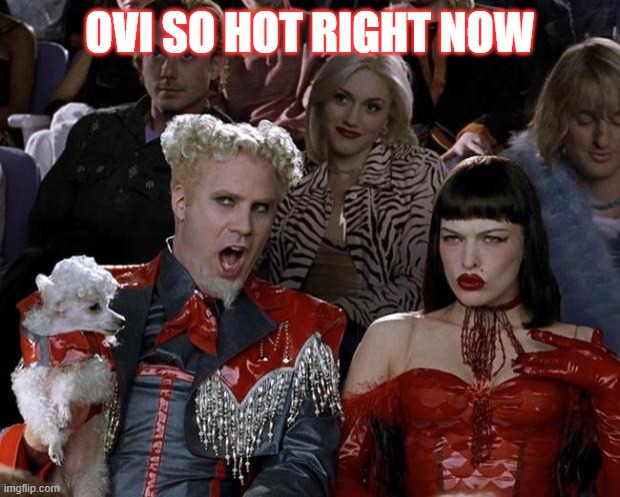 Ovi now has 10 goals in 10 games (nbd) (Goal 740), this ties his hottest start to a season EVER! Ovi has now scored on 150 different goalies and hopefully more to come. Not only is he scoring but he is also sharing the wealth with 2 more assists last night for a 3 point night with 6 shots on goal. Ovi is also a +9 on the season with 18 total points.
Connor McMichael had a big night getting his first ever NHL goal assisted from Ovi and a big one at that to tie the game in the third period. (only a few behind Ovi now)
The Caps became even more shorthanded on offense when Anthony Mantha had to leave in the second due to an unspecified injury,(Edit: it's looking like he needs to get shoulder surgery damn) hopefully it's not serious because he has been playing well so far. With an already shortened forward squad missing Oshie and Backstrom some of these other guys like Daniel Sprong need to step up which he did last night with a nifty goal of his own on a breakaway.
Overall, even though the boys took the L they were night and day from period one and beyond. They showed a ton of fight and to be honest they were buzzing around the ice in the third period to a point which I have not seen in a long time which is promising to say the least! Either way the lads still got a point and stand at 5-1-4 on the season and those OT points add up at the end of the season so lets stay optimistic and not overreact.
Caps are at home against Philly (scumbags) tomorrow lets get back in the win column!