As the Oilers enter the final stretch of the season, I felt as though they could probably use some of my expert advice again.
With only 17 games remaining in the season, the Oilers currently control their own destiny when it comes to making the playoffs. They sit third in the division, two points back of the Kings with a game in hand, and far enough back of Calgary that you should probably just forget about it. The playoffs may seem like a lock to some, but if you are familiar with the Oilers at all, you would know that they are prone to doing literally anything at any time with zero explanation. Because of that, I've decided to help them out by outlining exactly what they'll need to do down the stretch in order to put themselves in a good position come May. Just a reminder that despite my lack of experience working with professional hockey teams, my multiple undefeated seasons in NHL Slapshot should speak for themselves. If you still haven't caught on, I'm saying that everything I will be saying is pretty much foolproof and there's really no point in disagreeing with me because, in the immortal words of the heatdaddy, this is not up for debate.
Stop doing this
Mike, buddy, this is not what you're supposed to be doing. This is simple stuff, and I feel like there's no need for me to explain why what he's doing here is incorrect. He has his flashes of solid play, but Mike Smith is the absolute king of getting horribly out of position and allowing the goofiest goal possible, then yelling at his defensemen. He's really going to need to cool it on this if he wants to win more playoff games than he did last year (admittedly, Mike Smith was actually pretty good in the playoffs last year, but you get my point).
Get the powerplay working again
After starting off the season with an absolutely world-breaking powerplay unit, the Oilers went on a pretty significant slump where they just sort of forgot how to score with the man advantage. They've picked things up a bit lately, going two for two last night against the Sharks, and they're going to have to continue that if they want any sustained success. Given how many penalties McDavid and Draisaitl draw, the powerplay is probably the Oilers biggest asset, especially if they plan on competing with the league's best.
Continue the Jay Woodcroft power-stances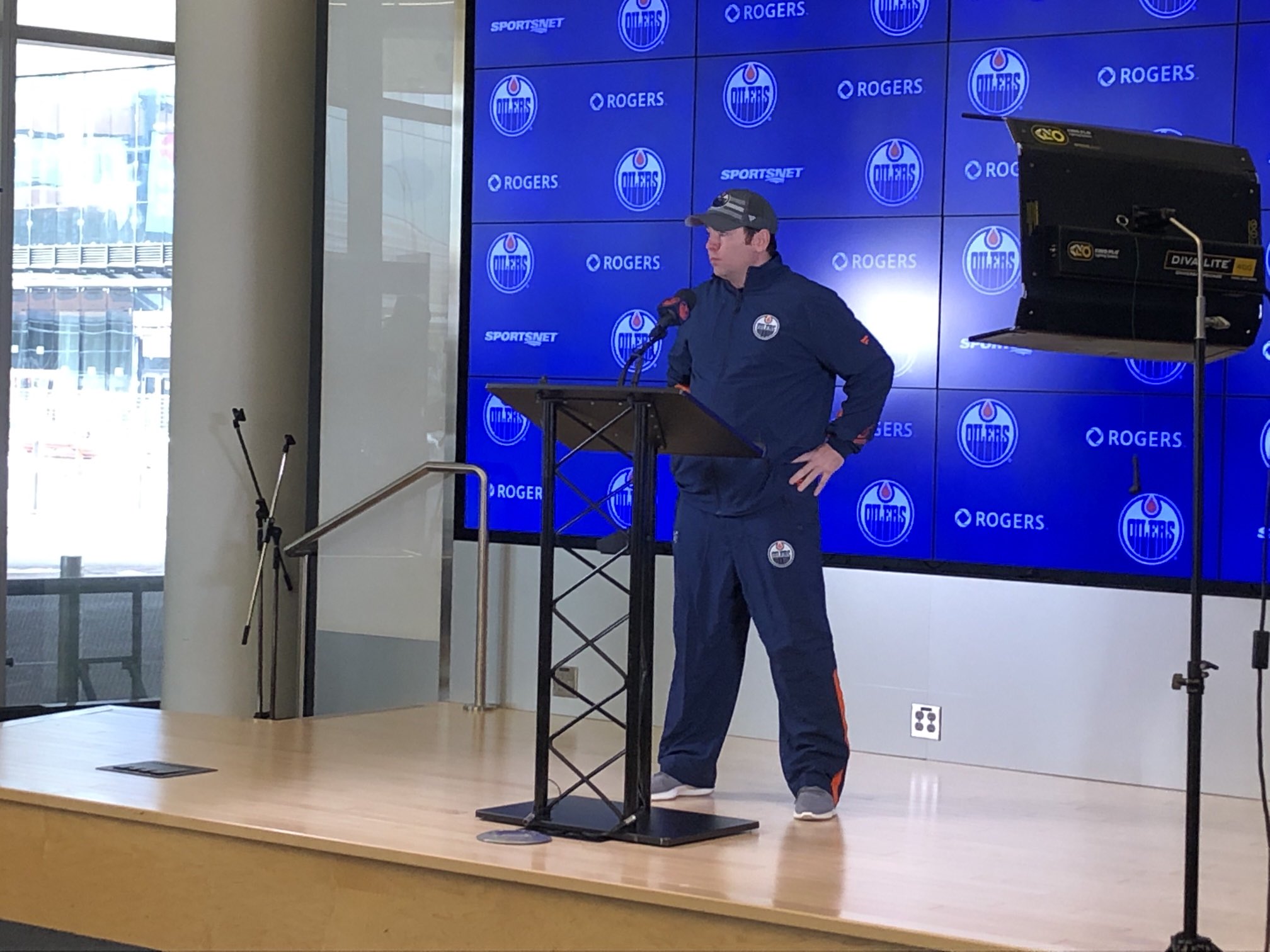 I don't feel like this one needs much elaboration. This type of power-stance almost certainly strikes fear into the hearts of his opponents. If I were Darryl Sutter and I saw this man, with this powerful of a stance, I would be shaking in my cowboy boots, or whatever they wear in Calgary. It's this stance that has led the Oilers to a 13-6-2 record since Woodcroft took over, and it's hopefully what will lead them to even more success in the coming months.
Keep Jesse and Yamo going
Since returning from injury, the Bison King has been on an absolute tear under Woodcroft, and the same can be said about Kailer Yamamoto. For Puljujarvi, his two-way game has been integral to the Oilers recent surge in offensive depth, and although he won't stuff the stat sheets, his importance can't be understated. They need to extend this man immediately. For Yamo, he's finally found his groove after a slow start to the season. He's scored in seven of the Oilers last eight games and has five assists for 12 points in that stretch. He's finding his way to the net and really helping drive the offense now that he's mostly with McDavid and Kane.
Keep playing for Ben
On a slightly more serious note, in case you didn't see, the Oilers flag bearer last night was Ben Stelter, a five-year-old boy who's currently battling stage four brain cancer. Ben obviously received a massive standing ovation and joined the team for their post-game media availability. This is going to sound very corny and it's entirely possible that I'm grasping at straws here, but the Oilers played hard last night, as hard as I've seen they play in a while, and I find it hard to believe that Ben didn't at least have some impact on that. In the post-game conference, Ben said that the Oilers looked "really good" and that's how they're going to have to play the rest of the season.