Your Northeastern Huskies opened up the defense of their Hockey East crown today at historic Matthews Arena vs. UConn. By the end of the contest, NU had picked up where they left off last weekend and the (good) Huskies are now a perfect 3-0-0 on this young season.
The game opened up choppy and fairly even. Neither team could get prolonged offensive zone set ups and NU was guilty of serving up some pizzas right in the slot. I'm sure the coaching staff was less than thrilled at the first intermission because some of those passes would get you bench time in my beer league. Thanks to the outstanding work of Gwyeth Phillips in net, NU escaped unscathed and the teams went to the locker room knotted at gooses.
The NU Huskies looked asleep for the opening 20 and were uncharacteristically outshot by a slight margin. The PP looked clunky and stationary and they were getting beat at the dot. I'll chalk most of that up to early season rust and playing a definitively better opponent than last weekend. As I've said on these interwebs many times before, the best teams are ones that overcome adversity and can adapt to their circumstances. Well, you can put these NU Huskies in that category for sure.
NU came out for the 2nd looking like they finally woke up. Outskating and outhustling the (bad) Huskies, NU was winning footraces and puck battles on the walls. Oh yeah, their fore-check woke up too! Maureen Murphy bunted the puck right off a UConn's players stick in the offensive zone to Alina Müeller. The captain didn't hesitate as she one-timed the puck from the RW circle and the (good) Huskies were off and running. Watch the whole clip below and keep an eye on Müeller: #11. Look at her circle up high, see how she reads the play and finds the soft spot. I mean her hockey IQ is through the roof and what a laser! With that goal (which turned out to be the GWG), Müeller is now the leading GWG scorer for the program, passing Kendall Coyne Schofield. I'm not sure, is that good?
Originally tweeted by Northeastern Women's Hockey (@GoNUwhockey) on October 7, 2022.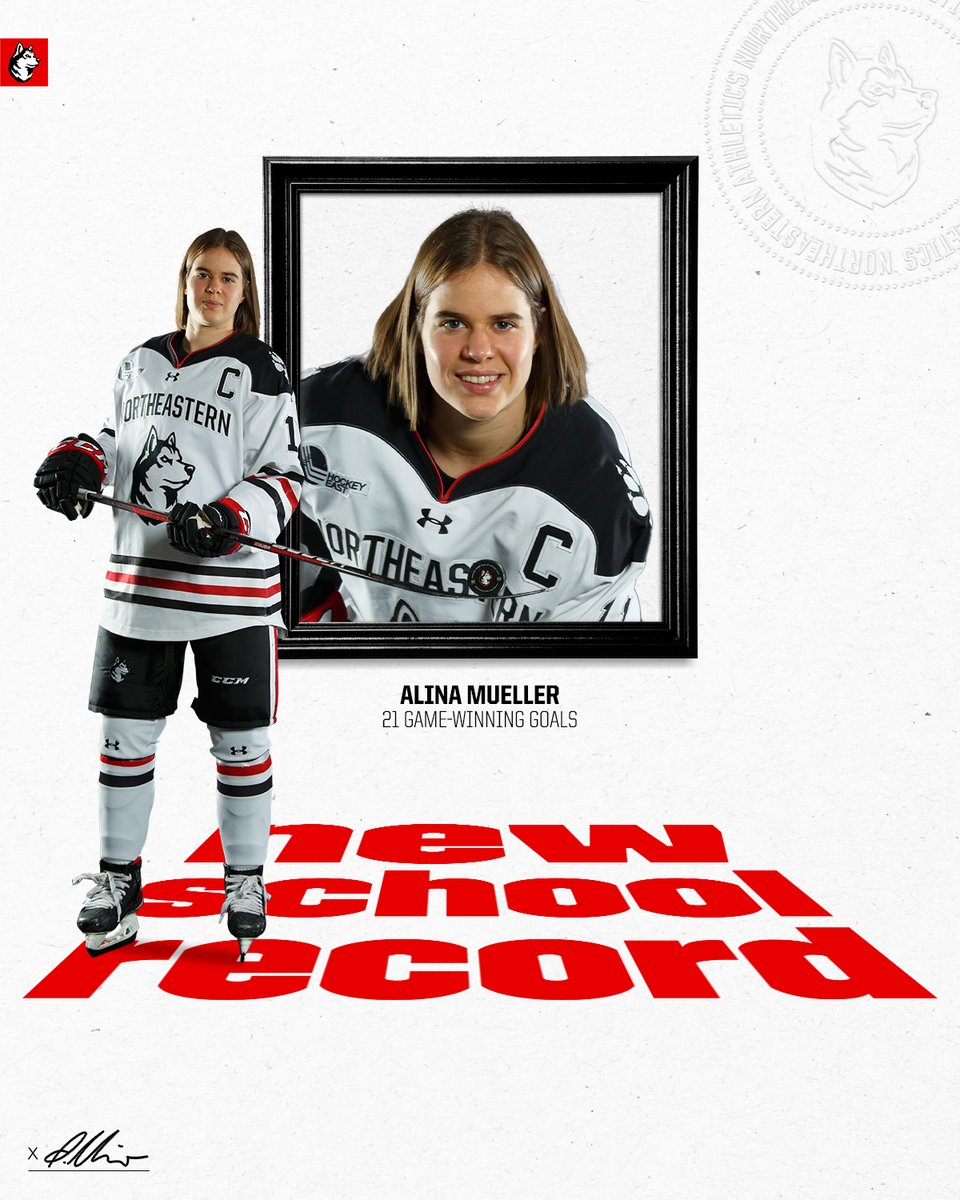 Originally tweeted by Northeastern Women's Hockey (@GoNUwhockey) on October 7, 2022.
A little more than a minute later Katy Knoll, the premier power forward in women's hockey (yeah that's right, I'm going to keep saying it) got her cookie too. Knoll was a honey badger on this one, disrupting the UConn breakout on the fore-check and then gathering the puck up high in the zone with speed. She dog-walked two UConn defenders up high with a inside out backhand move before taking a drag snap shot from the inside of the LW circle. Up and over the blocker and it's deuces.
Originally tweeted by Northeastern Women's Hockey (@GoNUwhockey) on October 7, 2022.
I believe they call that play "Katy Knoll doing Katy Knoll things". Ahem, Katy if you happen to be reading this, I'm an XL.
Later in the third the line of Knoll – Taze Thompson – Skylar Irving put the dagger in UConn. Irving drove down the wall on the fore-check and blew up the defender (legally of course) and walked out from the LW corner. With Thompson driving in the slot and Knoll at the far post, Irving put a puck across the crease that caromed in off the defense's skates. Good things happen when you go to the net and Irving got her first of the year.
Originally tweeted by Northeastern Women's Hockey (@GoNUwhockey) on October 7, 2022.
Can I just digress about how much I like this line? I mean I know that Chloé Aurard, Müeller and Murphy are almost unfairly good together, and all 3 have a realistic shot at the Patty Kazmaier (I mean Murph should have been there last year, but I don't want to digress from my current digression in progress), but let's give some love to the 2nd line. So far, the combo of Knoll, Irving and Thompson has been fantastic. Yes, I get it, it's only been 3 games, but they just complement each other so well and they all play a 200ft game. Knoll as we've already declared is the premier power forward in women's hockey, Irving (South Shore queen) has speed for days and a nose for the puck, and Thompson? Let's just say her hit at the horn in game 1 of the season might be my favorite sequence of the year so far. I just love watching them play together. Just 3 beauticians out there making things happen.
The score held for the rest of the period and the game. The 3rd was an exercise in special teams as the refs were wildly inconsistent for the final stanza. There were some penalties that were borderline at best and some non-calls that make me think that Stripes needs a visit to Lenscrafters. Although please someone give them a ride, I don't think it's safe to be driving when you're legally blind. NU really turned around the game when they started working the wall and engaged on the fore-check. Moving their feet and quick, short passes aided the breakout and got speed through the neutral zone. At times UConn had all 5 skaters back at the red line, so quick breakouts were definitely the counter move.
A couple of other tidbits and observations from today's matinee:
Abby Marohn is playing lights out. As part of the top pair she's logging big minutes in all facets and is just cool as a cucumber with the puck back there. In 3 GP she's at 3pts, which almost equals her career totals. A star in the making.
Maureen Murphy I see you. Late in the 2nd with an iffy call against NU in the offensive zone, Murphy tucked it by the goalie after the whistle. If I was playing D, I would have been pissed, but if I'm your teammate I'm loving it!
Not only does Alina Müeller now hold the GWG record for the program, she is currently sitting at 199 career points. Whoever is on the ice with her tomorrow when she gets to 2 bills, make sure you grab that puck!
How seamlessly has Maude Poulin-Labelle fit onto this squad? Not for nothing, but I have half a mind to go back and to watch some games from last year NU vs. UVM. How good were the battles between her and Knoll?
I'm convinced Mia Brown has gorilla glue on her stick blade. She gets the puck and no one can take it from her, she's a one-woman cycle.
Megan Carter had a hell of a game and is awesome at defense. That's it. That's the headline.
First (complete game) shutout of the season for Gwyneth Phillips. Smooth, calm and sharp on her angles and looked great in net today. I'm not sure I'm asking her to play outfield for my softball team based on that popup late in the 3rd, but I'll take her in net all day.
Originally tweeted by Northeastern Women's Hockey (@GoNUwhockey) on October 7, 2022.
Up next for the (good) Huskies is another tilt tomorrow afternoon vs. the (bad) Huskies.