Following a Conference Finals appearance, expectations for the Oilers are higher than they've been in years. But is this hype warranted?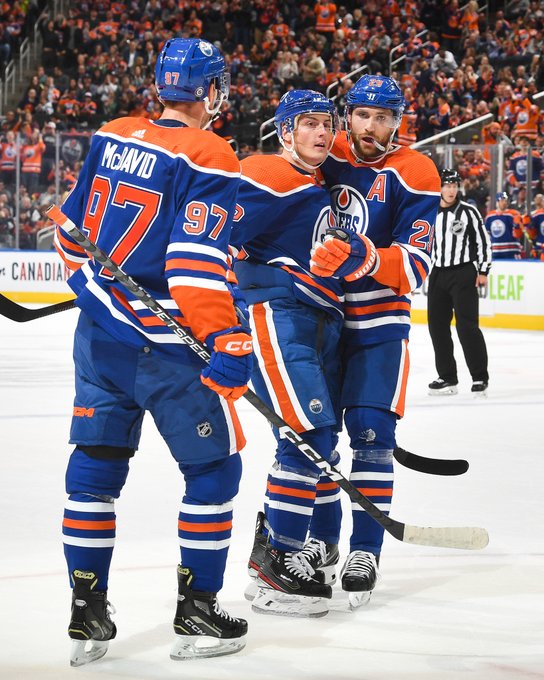 If you've read anything I've written before, I think one thing would be clear; I didn't think the Oilers were very good last year. If you compiled a list of Dave Tippett haters, I would be right near the top, and my opinion of Ken Holland isn't much higher. That being said, the hiring of Jay Woodcroft completely changed the trajectory of this franchise, and while this certainly isn't something I thought I'd be saying earlier this year, people seem to think the Oilers will be pretty good this season. Their best playoff performance in over a decade has people excited about what could happen for the Oilers in 2022-23, and with just one day until the start of the season, it's time to look at whether they're actually all that.

Having gone to the Conference Finals, only two teams went further than the Oilers in the 2021-22 season. I'll just put this out there right away, I don't think the Oilers are one of the three best teams in the NHL, but they're about as close as they've ever been. Obviously, this all starts with the offense. Last season, the Oilers finished tied for 7th in the NHL with 3.48 goals per game, but that doesn't tell the whole story. They played the first 44 games of the season with Dave Tippett as their Head Coach and scored 3.25 goals per game over that stretch. After firing him and bringing in Jay Woodcroft, the offense did a complete turnaround, averaging 3.87 goals per game over their final 38 games. That pace would have put them in second in the NHL, behind only the Florida Panthers, and while it was obviously a small sample size, this pace was continued in the playoffs, where they averaged over four goals per game over their 16 games.

Despite the statistical evidence that the Oilers have a strong offense, a lot of what makes people excited about it is the potential. McDavid and Draisaitl are obviously generational offensive talents, so having them should already give you a solid group, but entering this upcoming season, the rest of the forwards are probably as good as they've ever been in the McDavid era. The addition of Zach Hyman paid dividends last year, particularly in the playoffs where he put up 16 points with 11 goals in 16 games. Whether he's playing on a line with Connor or Leon, I imagine he'll continue to produce this year, and his solid two-way play is just an added bonus. Evander Kane, who earned himself a four-year extension this offseason, despite possible off-ice issues, scored at an elite rate for the Oilers last season, with 35 goals in 58 including the playoffs, and seems like he'll be back on the top line this fall. While I think Kane is probably a safe bet to reach 30 goals, I do have some concerns about him entering his first full year with the team. Over the course of his career, Kane has consistently found himself in the penalty box, even leading the NHL in PIM in both 2018-19 and 2019-20. Obviously, penalties leave the team short-handed, which is less than ideal. I understand it's a part of his game, and I'm not saying that he needs to completely drop this part of it, but he's too valuable of a player to be in the box this often, and he just needs to tone it down a bit. Another concern about Kane I have is his neutral zone play. In transition, Kane often seems a bit lost, as he struggles to create strong zone entries, rarely forces turnovers, and lacks any real impact defensively. These are all theoretically fixable issues, as he's a good enough skater with decent puck skills, but he's 31 and is entering his 14th season in the league, so I doubt his game with change much. All that being said, his extension was pretty team friendly, and he brings enough offensively that as long as he makes McDavid happy, it's hard to complain too much. He's not a perfect player, but he's very good at what he does.

Ryan Nugent-Hopkins is another important piece of this offense, but I don't think I need to spend a whole lot of time on him. Entering his 12th season, he's by far the longest-tenured Oiler, and if he stays healthy, he's probably good for at least 60 points. He's got a good two-way game, the fans love him, and he's got some versatility within the roster. We all know who The Nuge is at this point, and imagine we're all happy to have him. One player who requires a little more imagination is Jesse Puljujarvi. I am, admittedly, a huge believer in Jesse. Ever since returning from Finland, I've loved his game and think he could be an important piece of a potential Cup run. Not everyone feels that way though. While he may be a favourite of the advanced stats community, he's not as popular with others, and his relatively weak showing in the playoffs didn't help that. One thing that is absolutely inarguable, is how good he is at driving the play. He is excellent at putting stress on the opponent, consistently generates pressure in the offensive zone, and has the potential to be one of the NHL's best defensive forwards. Whether or not he can be a true top-line winger will depend on if he can get the offensive production up, but I have faith that in the right situation, we'll see that happen.

Another player who has a chance to take a big step forward this season is Ryan McLeod. Offensively, McLeod really struggled in his first full NHL season, to the tune of 22 points in 71 games. Defensively though, he was outstanding and was easily one of the Oilers most impactful players in that part of the game. Much like Puljujarvi, McLeod's potential is reliant on his offensive production increasing, something that I have no doubt he's capable of. He's an elite skater, he might be the second fastest player on the team, and his puck skills are good enough to allow him to properly use that speed. I don't think he'll ever be a top-tier scorer, but he could be an outstanding play-making third-line center.

Kailer Yamamoto's role seems a bit uncertain entering his third full NHL season. He put up 20 goals and 21 points last year, but his season was a bit less consistent than it may look. In his first 56 games he only had 20 points and was -11, but out up 21 in his final 25 games with a +7 rating. From what it looks like, Yamo seemed to be a big beneficiary of the coaching change, which makes sense considering his perky style of play should lend itself well to the type of team Woodcroft wants. With the influx of talent the Oilers have had over the past year, he might not see as much top-six time as he saw in the past, but he has the potential to be a great depth piece this season.

The last exciting piece of the Oilers offense in 2022-23 is their 2020 first-round pick, Dylan Holloway. Holloway made his NHL debut in game 4 for the Western Conference Finals against Colorado but saw limited ice time, so he's entering this upcoming season with essentially no NHL experience. Holloway spent the 2021-22 season in Bakersfield, where he put up 22 points in 33 games, but right now it seems like he'll be playing with the team in Edmonton tomorrow night. He's got good speed and some physicality that I think could lead to him seeing regular time in the top six early on. Holloway has the potential to be playing alongside McDavid or Draisaitl for a long time, and I think we'll see what all the hype is about tomorrow.

There are obviously other forwards on the team, including Derek Ryan and Warren Foegele, and while neither of them is terrible, there's a reason I didn't talk about them, they just aren't interesting. As the season approaches though, I think it's easy to see why people are excited about the Oilers offense. Under Jay Woodcroft, this has been an elite group, and the combination of established vets, like The Nuge and Hyman, with the potential for growth from players like Puljujarvi and McLeod, all held together by two of the best offensive players of the generation, I see no reason not to expect to Oilers to have one of the best offenses in hockey this season.

On the other end of the ice, it's a bit of a different story. For as long as I can remember watching the Oilers, defense has always been a major question mark, and as much it's better than it has been in the past, it's still a concern entering 2022-23. The conversation obviously has to start with Darnell Nurse, who is kind of a difficult player to discuss. On the surface, Nurse is an incredible athlete who can use his size and speed to be a real offensive force, and who has only improved defensively over the course of his career. He isn't the best decision-maker, and his puck movement leaves something to be desired, but his physical skillset brings enough to the table that you'd be happy to give him a reasonable deal, somewhere in the 6.5 million range with the likes of Colton Parayko or Ryan Pulock. That's where the biggest issue lies. Darnell Nurse has the 7th highest cap-hit of any defenseman in the NHL at 9.25 million, which is higher than Cale Makar, Roman Josi, Dougie Hamilton, and many more. I shouldn't need to explain why this is a bad contract, but for the purposes of a season preview, it doesn't matter all that much. On the ice, Nurse is a solid player, who isn't an ideal number-one defenseman, and can be very frustrating to watch at times, but is solid nonetheless, and his impact on the team is undeniable.

On the other end of the defensive spectrum, is Brett Kulak. After the Oilers acquired him from Montreal at last year's trade deadline, they gave him a four-year extension during the offseason, so he should be a fixture of their top four in 2022-23. While he doesn't have the offensive presence that Nurse does, Kulak was easily the team's best defender last season and has a lot of the skills that other Oilers defensemen lack. He's a reliable puck-mover, he's got good instincts, and is great on the breakout, which makes him indispensable for the Oilers on the back end. A lot of the players I'm about to talk about are young and will need an established veteran to help them develop, and Kulak should be just that. One of those young players, is the Oilers 2018 first-round pick, Evan Bouchard. In his first full NHL season, Bouchard suffered from a lot of the issues that young defensemen tend to. His puck movement was inconsistent, he didn't have reliable decision-making, and he struggled defensively as a whole, but that's far from the full story. Despite all these struggles, Bouchard had a great season and showed that he has the potential to be a legit top-pairing defenseman in the future. Like Nurse, he has an incredible physical skillset that he's able to use to generate offense, he's shown some prowess on the powerplay, and his defensive game only got better as the season went on. More than players like Puljujarvi or McLeod, I think there's a real chance that we see Bouchard struggle to start the season, but I would anticipate him being one of the Oilers most important pieces by the end of the year.

Another first-rounder who'll be looking to make an impact this year is 2019 pick, Philip Broberg. While it seems like he won't be with the team to start the season, I think he's important to cover nonetheless. Broberg played 23 games last season, where he generally struggled, putting up a point and two assists with a -8 rating. This is a bit misleading though, as he was never really put in a position to succeed, rarely playing alongside any of the team's top players. This needs to change if they want him to succeed. Broberg has never had the best defensive skillset, but he's an excellent skater and has good enough puck skills to be a staple of a team's defensive core, so he needs to be given an opportunity to prove himself at some point, or else the Oilers are just wasting talent. Even if they don't have long-term plans for him, they may as well give him some trade value by playing him this year. Either way, Broberg needs to be included in the team's plans if they're serious about competing this season. The rest of the Oilers defensive core honestly isn't all that interesting. Cody Ceci is a generally solid defender who had a nice playoff run but shouldn't be relied on too heavily. Tyson Barrie will likely continue to have an awful time trying to play defense, but he can move the puck and is too likable to ever get too mad at. Ryan Murray is the definition of "ok" and you likely won't notice him when he's on the ice. It's really just a lot of guys that you'd be forgiven if you forgot played for the Oilers, but it could be worse.

As a whole, it's sort of hard to project the Oilers defense this season. The team's forwards should be better defensively this season, which will be a big help, but there's still a possibility that their backend is just as weak as it's always been. That being said, there exists potential here for some of the younger players to step up and make this an above-average unit, and even if they're bad, they'll definitely be interesting to watch. Realistically, this group will probably just be ok this year, with a mix of high-variance younger players and defensive-centric vets, that will lead to a defensive core that isn't bad, but you probably hope will be better next season.

The final group to take a look at for this team is the one that saw the most substantial change: the goalies. In the offseason, the Oilers signed former Leafs goalie, Jack Campbell, to a five-year 25 million dollar deal to hopefully solidify a position that hasn't had consistency for what seems like forever. Campbell was a tale of two halves last year, and while I could go into all the numbers, it's easier to just say it. In the first half, Campbell was one of the best goalies in the league, in the second half, he was not, in fact, he was quite bad. In his seven playoff games, he was very hot and cold, so he's kind of a hard goalie to evaluate at the moment. This year, he definitely won't be as good as he was in the first half of last season, but he'll probably be better than he was in the second half. What's important, and something I feel confident in saying is that he'll be better than Mike Smith. Not to tear into the guy too much, but Mike Smith did not help the Oilers very much last season, so any improvement will be huge. Will he win the Vezina? Wildly unlikely. Will he be a competent starting goalie? Sure, he probably will be.

Backing up Campbell this year will be Stuart Skinner, who is one of the players I'm most excited to see. In 12 starts last year, Skinner had a .913 save percentage and had a .920 in 35 AHL games. In his limited time with the Oilers, he looked like a legit NHL goaltender and could be one of the NHL's best young backups. Being a backup goalie, there's not all that much to be said about him, but on the nights when Campbell isn't starting, I would not be too concerned about who's between the pipes for the Oilers.

So with all this out of the way, we can circle back to the original question being asked: are the Oilers actually good? Yes, I think they are. Their offense, which is already one of the best in the league, should only get better, their defense has plenty of talent and room for improvement, and their goaltending seems much stronger than it's been in a while. Combine this with a full offseason for Jay Woodcroft to implement his systems, and I see no reason why the Oilers shouldn't be competing come May. I would expect this team to be fighting with the Flames to win the Pacific, and as we saw last year, with 97 and 29, anything is possible in the playoffs. This is the highest expectations have been for the Oilers in decades, and while I might not be picking them to win the cup this season, I'm certainly not ruling it out.