In thinking about the Oilers I often come up with questions that are completely unanswerable, so instead of answering them, I'm just going to make you all listen to me ramble.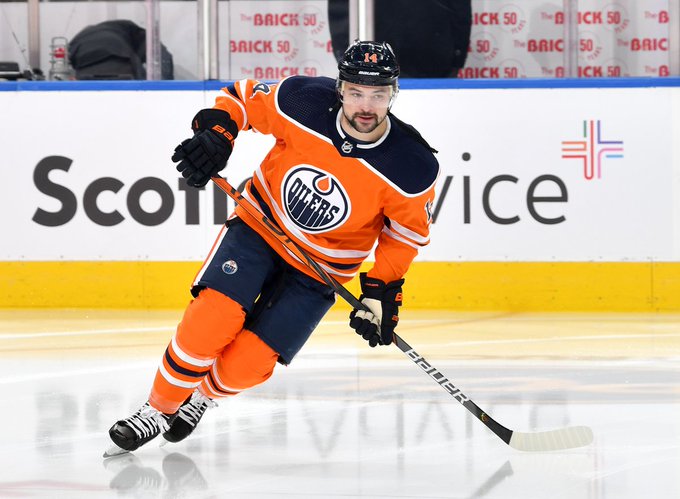 Twitter/@EdmontonOilers
The Oilers are weird. I know this, you know this, everyone knows this. I often times find myself sitting in bed pondering them, and think to myself, "why did it take so long for the Oilers to play a game in overtime?" or "why is Devin Shore still on the team?". These questions haunt me and as much as I would like to draw a conclusion about them, I no longer believe that is possible, so with that, I present to you: unanswerable questions about the Edmonton Oilers.
Let's start with the first question, why did it take the Oilers so long to play a game in overtime? Prior to their overtime win against the Golden Knights on Saturday, the Oilers were the only team in the NHL who had yet to play in overtime, despite having been in five one-goal games. With Saturday's game, they are now on pace for four overtime games this season, which obviously won't happen, but just illustrates how long it took them to just play one. Yes, I know this doesn't matter but it's weird. I started thinking about this prior to the Knights game, so personally, I believe that I manifested this.
Next order of business, why do they keep getting outshot? At the moment, the Oilers have been outshot in 13 of their 19 games, including 8 straight prior to their loss last night against the Devils. Now, you could pretty easily just chalk this up to them being a slow starting team that generally gets down in the shot count early, but just as a concept this stat is strange. On the season, the Oilers have almost the exact same amount of scoring chances for as they do against, but their opponents are routinely outshooting them, as well as having far more shot attempts against on the season. This sort of relates to a theory that I have about Jack Campbell, but I won't get into that now, the point is that this is just a weird Oilers thing. I understand that there are clear reasons why they're getting outshot, but they're all so fixable and mostly boil down to "they just need to make an effort to get the puck to the net more". I'm not sure if what I've said here makes sense, but the point is, the Oilers have shown a weird inability or unwillingness to shoot the puck and I don't know why.
I mentioned earlier the question of why Devin Shore is still on the team, but this extends to more than just him. He's an easy one to pick on since he played very limited minutes and has little noticeable impact on the game but what exactly does this guy do? Maybe he's a really nice guy and I'm not meaning to rip on him too much but every time the Oilers roster is announced and he's still there I just don't get it. It seems like there's a chance of him getting phased out of the lineup, but I can't say that about a couple of other guys. Tyson Barrie seems like a really likable person and I know he puts up, but you cannot convince me that this guy still needs to be here. Every single time I watch the Oilers he just looks incapable of defending anyone, and honestly, he doesn't even really generate offense outside of the powerplay, and it's not like it's hard to rack up powerplay points when you're playing with McDavid and Draisaitl. I just don't see what it is he brings to the team. Ryan Murray is another guy who I'm unclear on what he does. He's a fine defender I guess, but every single year the Oilers have at least one defenseman who just feels like some old guy that stumbled his way onto the team. I just looked it up actually and it turns out he's only 29, but still, I don't feel like he needs to be here.
Why do they still insist on wearing the navy alternates? I know this has nothing to do with their play, but I can't believe they finally brought back the royal blue and got new reverse retros, but are intent on wearing the most mid jersey in Oilers history. It's not the worst thing I've ever seen, but I don't like it and I want it gone. I've seen mixed opinions about them online, but I'm taking a stand and letting it be known that I do not like them.
What is Jesse's deal? I have made it known many times how big of a believer in Jesse Puljujarvi I am, but there's something off this year. When you watch him play he doesn't really look all that different, but things just never seem to break his way, and he's currently a team-worst -9. His weak finishing is a really easy thing to point to, but he struggled to put pucks in the net last year and still finished the season +22. I just feel like I'm going crazy because when I see him play he looks like he has all the tools but he just can't put it together right now. This season really feels like a make or break your for Jesse, so I really need him to pick it up down the stretch.
I could probably keep going here but thinking about these just frustrate me more than anything, so I'm going to leave it there for now. With the way the season is playing out though, I imagine I'll be doing this again.