I've seen enough, Stuart Skinner is unequivocally him and the Oilers finally have their guy in net, even if it's not who they were expecting.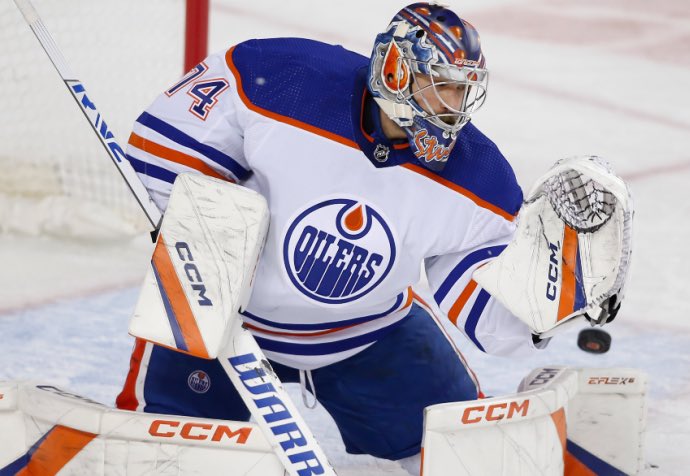 Twitter/@AzorcanGlobal
November 19th, 2021, I posted an article titled "Stuart Skinner Is That Guy and Connor McDavid Is Still Nasty". Not to toot my own horn, but I'm feeling pretty good about that right now. Over the past two seasons, I have been adamant that Stuart Skinner was the Oilers' best goalie, and he has done nothing but prove me right so far this season.
Throughout 13 starts this season, here's where Stu ranks among all goalies with at least 10 starts in some stats I've decided fit my narrative.
Save Percentage .916: 11th
Goals Saved Above Average 5.79: 11th
Goalie Point Share 3.3: 12th
Goals Allowed Percentage- (goals allowed relative to the league average with 100 as the base and lower being better) 87: 9th
Quality Start Percentage .615: 10th
There are more I could go through and yes, I know those are cherry-picked, but the point is that Stuart Skinner has been outstanding this season, especially relative to how poorly Jack Campbell has played. This was most evident in the Oilers' most recent game where they hosted the Washington Capitals, where they only lost 3-2, despite being outshot 50-30, and Stu had a save percentage of .940. The Oilers played easily one of their worst games that night and Skinner had to be lights out for the team to even have a chance.
As of writing this, the Oilers are currently 27th in the league for goals allowed and I'm pretty confident that without Stu, they'd be dead last. He's only getting paid 750,000 dollars this season but is set to become an RFA at the end of the season, which brings me to my next point, extend this man immediately. I'm not saying that they need to give him a huge long contract, but the way things are going, his value is only going to increase, so why not just lock him up now? Last offseason, the stars signed Jake Oettinger to a three-year, 12 million-dollar deal, and he's both a bit younger and probably a safer bet, so I think we could see him get a deal somewhere in the three or four-year range at around 3 million a year. The team probably isn't super thrilled about their last goalie contract they signed, but locking up young talent at a position of need is incredibly important, so you have to hope the Oilers get it done sooner rather than later.
I can't guarantee that his play will continue like this, but right now Stu is what's standing between the Oilers and the worst goaltending in the NHL, so I think he has more than earned the title of Him.