With winter now underway and the holiday season upon us, it's the perfect time to make a wish list for Ken Holland and co.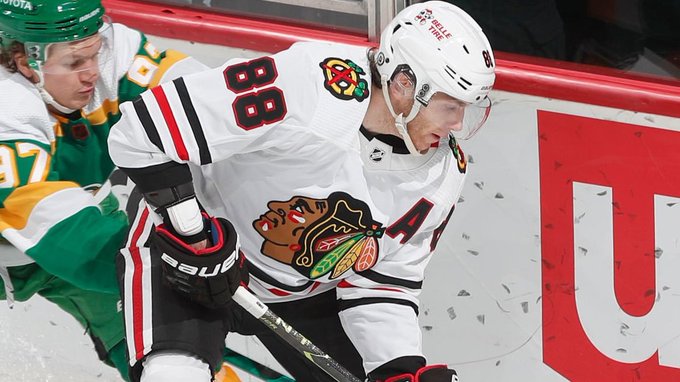 Twitter/@StatsCentre
When you're getting a gift for someone for Christmas, or any other holiday, there are two distinct types of gifts. There's the main gifts, the kind that the person asked for because they want it, like a new NHL Slapshot stick controller since they broke their last one trying to use it as an actual stick. There's also the secondary gift, the kind that you probably didn't ask for, but definitely need, like underwear, socks, or soap. For this holiday season, the Oilers are in need of both of these types of gifts, so let's make a wish list.
Patrick Kane and/or Erik Karlsson
This is the definition of a gift that you ask for but absolutely don't need. Both these mid-2010s studs seem to be on the trade market right now and the Oilers seem to be at least somewhat interested in both of them. Kane, despite putting up 92 points last season, hasn't really looked the same the past couple of years and has had some of the league's worst advanced metrics. It feels easy to chalk that up to him playing on the worst team in the league, but it seems inarguable that really beginning to fall off. For Karlsson, it's a different story. He's had a huge resurgence this season, having set goal and point highs during his time in San Jose, in just 35 games. He's been the definition of an offensive defenseman this year with elite offense and abysmal defense, something that the Oilers aren't really lacking. I'm sure Ken Holland is absolutely drooling over the opportunity to trade for once-elite 30-somethings, but unlike Duncan Keith, both these guys would probably be good for a playoff run. If the Oilers continue with their current team-building model, it seems like their success will be predicated on scoring a lot of goals and hopefully allowing not as many. I'm not sure exactly what the asking price would be for these two, but I imagine the Oilers would be able to match whatever other teams are matching, especially since I doubt the Hawks or Sharks are hungry for players who'll make an impact right now.
Jack Campbell being just OK
In my time watching the Oilers, I have seen some bad goaltending. Ben Scrivens and Nikolai Khabibulin come to mind, and while I won't say Campbell has been on their level, he's pushing it. Jack Campbell's tenure in Edmonton has been nothing short of a disaster thus far and it's clear that the preseason plan of him as the 1A to Skinner's 1B won't be happening. Stu has been great this year, but this is his first full NHL season and the Oilers can't just rely on him all year. I'm not asking Campbell to go back to being the player he was at the beginning of last year, I just need him to be OK. If Campbell can simply be a functional tandem goalie, the Oilers would be in a much better situation and would give Skinner so much more room to grow. He doesn't need to be great, honestly, he doesn't even need to be good, he just needs to be OK.
Evander Kane coming back the same as he left
I've talked about Evander Kane and my thoughts on him plenty over the past year, so I'm not going to get into that here, but for the purposes of this list, the Oilers really need him back right now. I made the mistake of thinking the Oilers' depth scoring would be better this season, I was wrong. Kane's five goals still rank fifth on the team despite playing 20 games less than most other regulars. Players like Kailer Yamamoto and Jesse Puljujarvi, who I have nothing but love for, have struggled immensely to put the puck in the net this season and I'm not confident it'll get much better. Evander Kane, if nothing else, is very capable of putting pucks in the net and his presence has been sorely missed. His play will be integral to the Oilers' play in 2023, so let's hope he comes back the same as he left.
For a bottom-six forward to step up
As I briefly mentioned, the Oilers' depth scoring hasn't been there this season. Derek Ryan, Ryan McLeod, Jesse Puljujarvi, Kailer Yamamoto, Warren Foegele, Mattias Janmark, Klim Kostin, Dylan Holloway, and Devin Shore have combined for just 21 goals in 229 games. Despite this, the Oilers still have scored the second most goals in the NHL, thanks to their elite top players, Whenever those guys aren't on the ice it feels like a miracle when the team scores, which is obviously not great. Lots of these depth guys have shown flashes this season, but none have shown any real offensive consistency. If just one or two of them could get hot over the final half of the year it would take so much stress off the top lines. I've said it before, but offensive depth is a pillar of championship teams, and the Oilers could really use some for the holidays.
Health
This should go without saying, but if either McDavid or Draisaitl ever goes down for a significant period of time, things would go downhill very quickly. There is not a single team in the league so dependent on star power, and while this isn't necessarily a problem, if either of these guys isn't there, that's where the problem starts. This is one of those gifts that you didn't think of but absolutely need. The Oilers have been very lucky with health in the past, so let's just wish for that to continue.
That might've seemed like a short list, but the Oilers' problems seem pretty simple. Get better goaltending, and depth scoring, and stay healthy. The Oilers come out of the holiday break with the final Battle of Alberta of the season, so hopefully, these wishes start coming true by that time.