After netting goal 698 on February 4th it took Ovechkin 18 LONG days but the Gr8 finally reached career history by netting goal 700 with a One-T howitzer from the right circle assisted from Evgeny Kuznetsov and Nick Jensen, and in typical Ovi fashion his 700th goal tied the game vs the Devils when they were down 1-2 at the start of the 3rd period in Jersey. After the goal Ovi was greeted by the boys at center ice in-front of a standing ovation from the Home Devils crowd out of respect for the Russian Captain. Unfortunately the Caps couldn't pull out the W on Ovi's Historic day as they fall to NJ 3-2.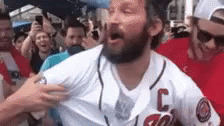 Alex Ovechkin with scoring his 700th goal becomes the 8th player in NHL history to reach the incredible milestone of 700 goals. Ovi now has 42 goals on the season. Alex becomes the 2nd fastest player to reach 700 genos, reaching this task in only 1,144 games which is 2nd to Wayne Gretzky (ever heard of him) which reached 700 in 886 less games than Ovi.
I personally am extremely grateful to witness the success and history Ovi has had throughout his NHL career, because he has made me love the game of hockey more than I ever thought I would growing up. At this pace I am very confident he can catch and pass the "Great One" as the All-Time NHL Goal Leader. Up Next: Mike Gartner 708 (7th)
Ovi will pass Phil Espositio, Marcel Dionne, and Brett Hull next season which he then should finish next season in 4th All-Time right behind Jaromir Jagr.
Prediction: Ovi Passes Gretzky in the 2025-26 season at the age of 40 the week of January 5th! BOOK IT