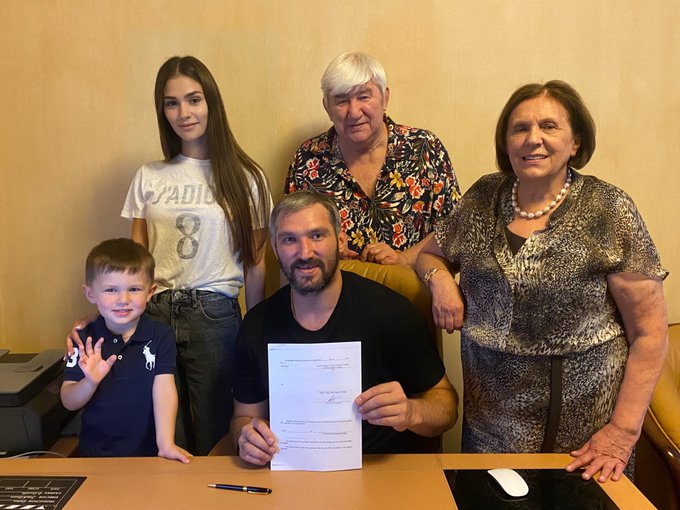 My Twitter- https://twitter.com/therealdisco99?s=21
Early Tuesday afternoon the Washington Capitals made sure the face of their franchise Alex Ovechkin stays a Capital for what looks like the rest of his career.
Ovi signed a five-year, $47.5 million contract extension which is worth $9.5 million per season, this contract will keep Ovi in Washington through the 2025-26 season.
Per Pierre LeBrun this is how Ovi's contract will be broken up over the next five seasons:
After this contract extension this leaves the Capitals with $4.14 million left in cap space, but also still need to sign (RFA) Ilya Samsonov which is slated to be goalie number one in D.C. this upcoming season so lets make that happen. Fingers crossed Ilya can put his Covid driven season behind him.
Ovi made it known pretty early in the season that he was going to wait till after the season to have contract negotiations to prevent any distractions during the season, but he had hinted that he would love to stay in D.C. for the foreseeable future and he posted on his Instagram early Tuesday to confirm that he was coming back to the Capital.
I couldn't be more happy with this resigning because it would be sacrilegious to let Ovi not finish out his career in the red sweater in Washington, because lets be honest we didn't want to see him pass Gretzky on the all-time goal scoring list in a different jersey, it just wouldn't feel right.
The Caps were able to protect one extra forward during the expansion draft by not re-signing Ovi prior, which allowed the Caps to protect a guy like TJ Oshie, because Oshie would have been a Kraken for sure if the Caps re-signed Ovi prior to the expansion draft.
Ovi currently sits at 730 career goals which is only 164 lighting of the lamp behind Gretzky. If Ovi can still average around 33 goals per season over this new contract period we could be looking at a new and possibly never to broken all-time NHL goal scoring leader (barring injury).
Being a Yankee fan (eye roll all you want Nat's fans) I was blessed with watching Derek Jeter his whole career and how I felt about Jeter as a Yankee is exactly how I feel about Ovechkin with the Capitals. I owe it to Ovi for making me the die-hard Cap's fan that I am today.
Prediction from my goal 700 blog: Ovi Passes Gretzky in the 2025-26 season at the age of 40 the week of January 5th!