I've had enough of Ken Holland and Dave Tippett, so I've come up with my own foolproof plan to save the Oilers season.
I've spent a lot of time this year saying that Holland and Tippett are doing things wrong and what they should be doing instead, but the reality of the situation is that they will probably never change, and they will continue to ruin the Oilers until it's too late. So I have decided to take matters into my own hands, by creating a plan for the Oilers to succeed. I know my lack of experience managing a real hockey team may lead to you questioning how effective my plan would be, but it should be noted that I once took the Oilers to 10 straight Stanley Cup victories in NHL 16. All that is to say that my opinions are objectively correct and if you disagree, you are, unfortunately, wrong. So without further ado, I present to you, my foolproof, objectively correct, and 100% effective plan to save the Edmonton Oilers
Call Up Dylan Holloway, Cooper Marody, and Philip Broberg
This is the easiest step. Cooper Marody has been one of the top players in the AHL over the past two seasons, averaging about a point per game, and has been a huge part of the Condors' success. He could provide the Oilers some much-needed depth and would replace Devin Shore as the fourth-line center. As for the 2020 first-round pick Dylan Holloway, he's only played five games in Bakersfield, but has averaged a point per game, and is coming off a season where he was a finalist for the Hobey Bakey award as the best NCAA hockey player. He could start in a bottom-six depth role to get his toes wet, but I'm confident that by the end of the season he could be playing meaningful minutes. As for Broberg, he's put together a very solid season with the Condors, and although I think he could use a little more time to develop, the Oilers are really thin on options right now. He's an excellent skater and can't make the defense any worse than it already is.
Trade Tyson Barrie
The decision to trade Barrie is incredibly easy. I really like Tyson Barrie the guy, but he's a liability on the ice, and the Oilers' defense is better without him. The execution of this may be more difficult though. The Oilers signed Tyson Barrie to a 3 year, 13.5 million dollar contract this past offseason, and it might take some convincing to get a team to take him. While he may not be the best on defense, there is one thing that Tyson Barrie does well, the powerplay. One team who struggles in that aspect of the game is the Los Angeles Kings and for a team in the playoff hunt, that's something they need to fix. The goal of trading Tyson Barrie isn't necessarily to get something valuable, but instead to just get rid of him. I would honestly take some printer ink if the Kings would take his contract, but realistically, no matter who the Oilers get in return, they'll have to retain some portion of Barrie's contract. As for his production on the powerplay, I'm confident that Evan Bouchard can fill that role.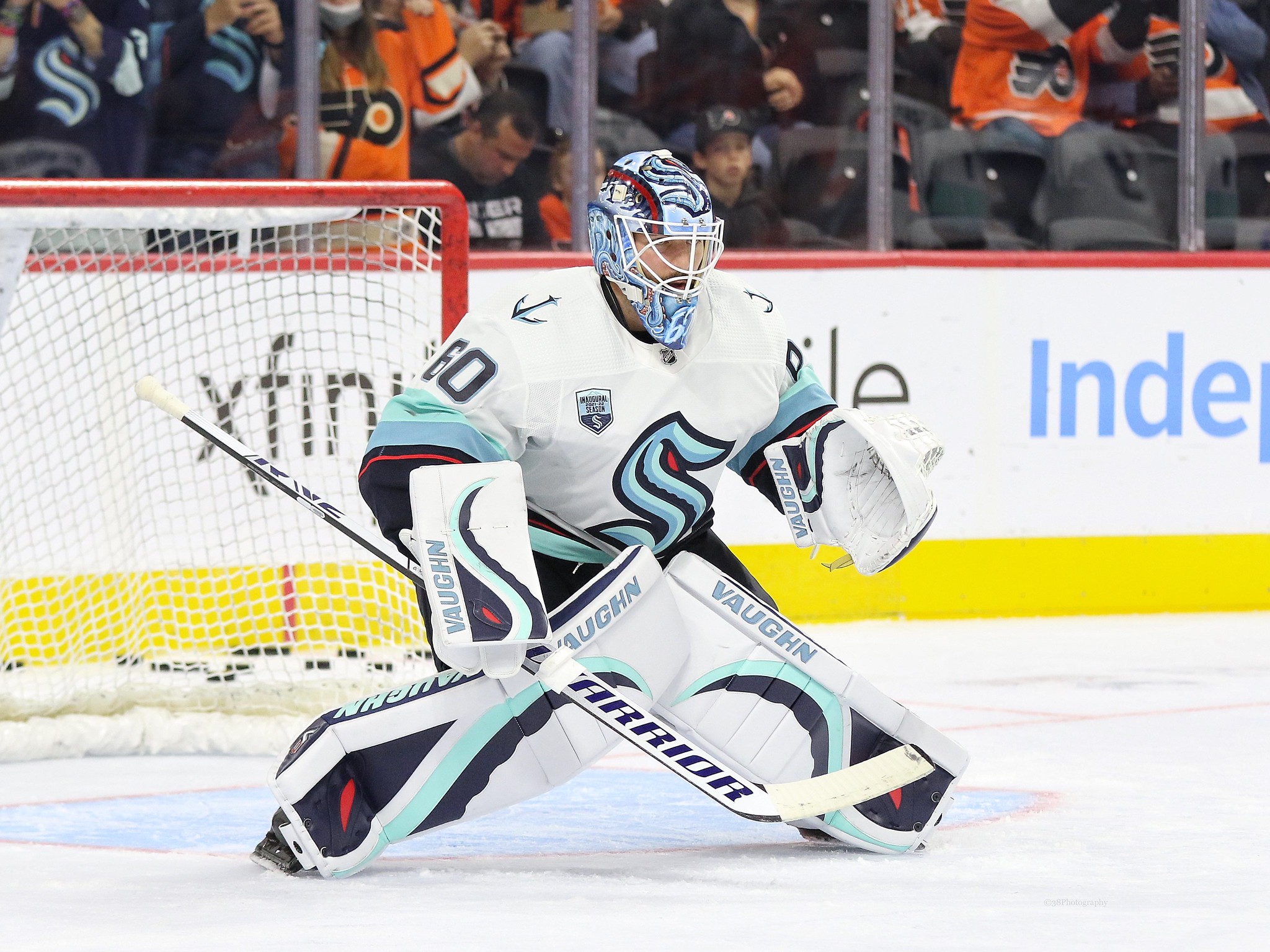 Trade for Chris Driedger
Despite some high hopes entering the season, the Seattle Kraken are in fact not very good, dare I say, quite bad. The Kraken seem committed to Philipp Grubauer as their long-term goalie, in spite of his horrendous season thus far, so I think the door is open for the Oilers to come in and get Driedger. His straight-up stats aren't great this season, which could lower his trade value, but his underlying numbers suggest that a change of scenery could lead to a bounce-back. In return for Driedger and a 7th round pick, I would send over AHL defenseman Dmitri Samorukov, Mikko Koskinen, a mid-tier prospect, and a 3rd round pick. This would hopefully stabilize the Oilers goaltending situation until a younger player like Skinner or Konovalov is ready to be the full-time guy.
Let McDavid, Draisaitl, and Nugent-Hopkins all center their own lines
This is a very easy one to implement. Spreading out these players throughout the top three lines will spread out the goal-scoring opportunities and hopefully help some of the younger wingers step into their own. Obviously, in situations where the team is desperately in need of a goal, you could briefly switch things up, but I believe that letting them all lead their own lines would maximize the Oilers scoring depth.
Final Step: Rework the lines
Now that the Oilers have gotten some better players, it's time to fix up the lines. Here's what I would do.
Forwards
Kane-McDavid-Puljujarvi
McLeod-Draisaitl-Yamamoto
Hyman-RNH-Holloway
Foegele-Marody-Kassian
Extra: Derek Ryan
Defense
Ceci-Bouchard
Broberg-Nurse
Lagesson-Keith
Extra: Koekkoek
Goalies
Driedger
Smith
Skinner
There it is. My foolproof plan to fix the Oilers. If anyone in the organization sees this, please take my advice because I can guarantee you, it won't be any worse than what you're doing right now.