It's pretty clear that the Oilers need an upgrade in net, but it's not as simple as just getting someone better. Here's my breakdown of their situation.
I think the best way to describe the Oilers situation right now would be "goaltending limbo". They have the ultimate ragtag group of misfits rotating in net, and each one of them has refused to take the starting job. Mike Smith, bless his soul, should be in Florida or Cancun or wherever people go to retire, the point is he's old. Ken Holland was bamboozled into giving him a two-year extension after he put up a great 2020-21 season, despite his aforementioned agedness. Mikko Koskinen is the last remaining bad contract from the Chiarelli regime and has taken a ton of heat this season, most of which he didn't deserve. Despite what Dave Tippett and Mark Spector may have you believe, he is not in fact the worst goalie on the planet, he's simply a decent backup that's been thrown into a terrible position. Stuart Skinner rounds out the group and has been probably been the best of the bunch this season, so it only makes sense that he gets sent down to the AHL as often as possible.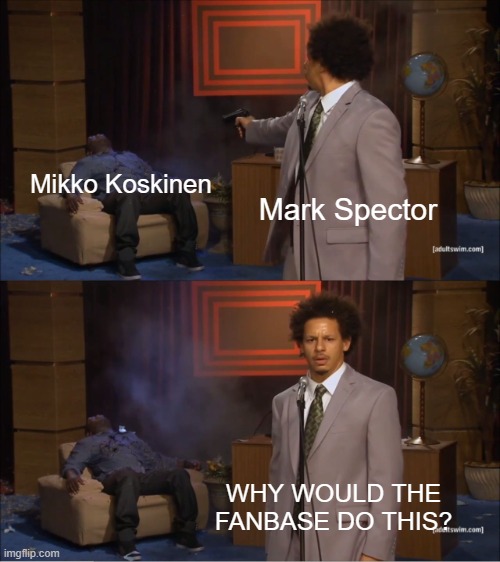 Generally, when a team is having issues in net, it's best to start your team's best goalie as often as possible. As I just mentioned, I think that Stuart Skinner has been the Oilers best goalie this season, not to mention he's only 23 so there's plenty of room to improve. Unfortunately, the Oilers seem to disagree and have been starting Smith and Koskinen, who both have sub-.900 save percentages, whenever they get the chance. What this means, is that the Oilers have manufactured a scenario where they are almost always at a disadvantage in net because they refuse to use their best goalie. This, in turn, has created another situation where the general consensus seems to be that the Oilers need to acquire a new goalie. There's one major issue with that though.
I hate to break it to you but I don't think Ken Holland plans on getting a new goalie. He is a stingy old man who does not like making major changes. He was going to extend Dave Tippett had he not been basically forced to fire him. He was probably upset when players started having to wear helmets. The point is, the odds of Ken Holland going out and trading for a starting goalie seem very low. But let's just ignore that for a second, and think about who they would even trade for?
Vets Jonathan Quick and Braden Holtby's names have been getting thrown around, but with their teams squarely in the playoff hunt, how much would it cost to get what would end up being a stopgap goalie. Marc-Andre Fleury seems like a popular choice, but I doubt he would waive his no-movement clause to come to Edmonton. Younger guys like Joonas Korpisalo and Alex Georgiev seem like they're on the market, but are they really any better than Skinner? The reality of the situation is that there aren't many realistic options for the Oilers to improve between the pipes at the deadline. If it were up to me, I would trade for Seattle's Chris Driedger and play him in tandem with Skinner, but the Oilers giving Skinner real playing time feels about as likely as Grant Fuhr coming out of retirement.
Ken Holland has gotten himself in a real pickle with the Oilers goaltending situation, and he has no one to blame but himself. I think the only course of action right now is for everyone to spend all their birthday wishes and other sorts of wishes on getting him fired.