Despite losing their two best players following their playoff loss to the Oilers, the Flames have completely reloaded their roster and the Battle of Alberta seems as alive as ever.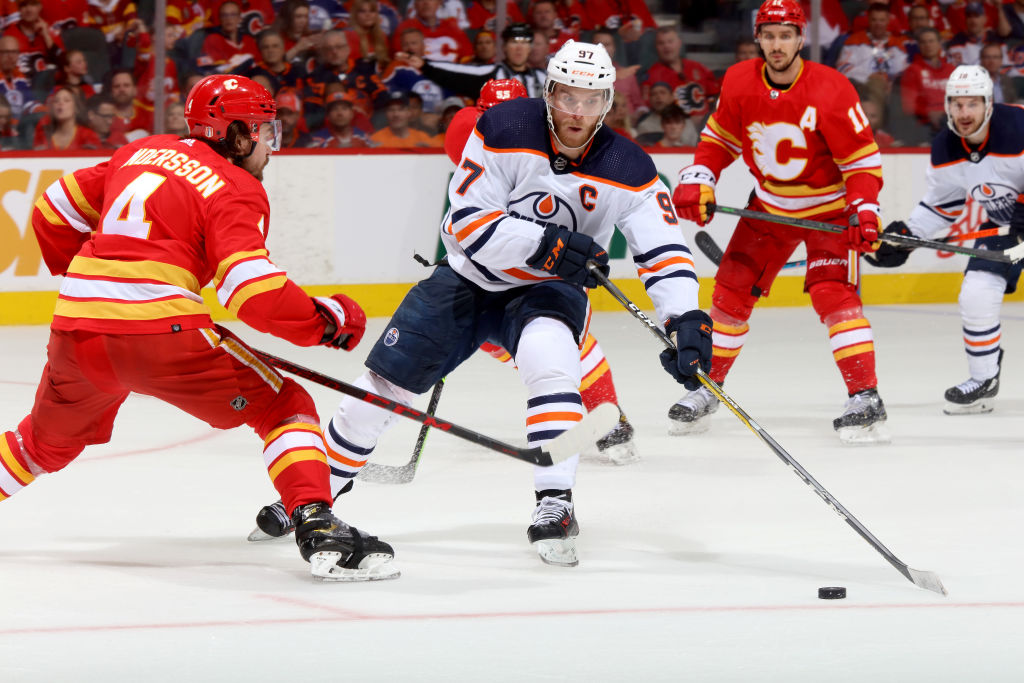 Just a few months ago, the Oilers decisively won the most recent chapter of the Battle of Alberta after beating the Flames in five in the Western Conference Semi-Finals. Edmonton thrashed the Flames so badly that they seeming sent them into a rebuild, as their face of the franchise, Johnny Gaudreau, left for Columbus in free agency and co-star Matthew Tkachuk made it clear he wouldn't be signing long-term with the team. Out of nowhere though the Flames flipped Tkachuk for Jonathan Huberdeau (who they recently extended), and MacKenzie Weegar, along with a prospect and a future first-round pick. Add in the recent signing of Nazem Kadri and the Flames seem to have gone from losing their two best players to somehow improving in the course of one offseason. And just like that, the Battle of Alberta is back on.
I think first it's important to acknowledge that losing Gaudreau and Tkachuk is massive. Gaudreau is coming off a career year where he finished second in scoring, fourth in Hart voting, and was easily one of the best players on the planet. Tkachuk is also coming off a career year where he was elite on both ends of the ice and put up a career-high in almost every single stat, including goals, assists, and +/-. Their losses are obviously huge, but the players they have acquired should be able to fill the gap they've left. Jonathan Huberdeau has been a consistently top-caliber forward for the past four seasons and led the NHL in assists last season on route to finishing fifth in Hart voting as well as being tied for second in scoring with Gaudreau. He may not be as elite as some of his counting stats may suggest and he certainly struggles on the defensive side, but he's a world-class playmaker and anyone who plays with him will benefit greatly. MacKenzie Weegar has been an ascending player over the past few years and absolutely exploded the past two seasons, showcasing himself as one of hockey's best defensemen on a pairing with Aaron Ekblad, finishing 8th and 14th in Norris voting as well as being a darling of the advanced stats community. He might not be on the same level as players like Cale Makar or Victor Hedman, but I can pretty confidently say that he's the best defenseman in Canada, and will be a huge pain for the Oilers moving forward. Their most recent addition, Nazem Kadri, is also coming off a career year, putting up 87 points which was 26 more than he had in any of his first 11 seasons. He's got a solid two-way game and excels on the powerplay, but realistically, he's likely peaked, and I would be very surprised if he ever has a season as good as last year's. Nonetheless, he'll still be a meaningful addition and will provide some much-needed offensive depth for the Flames. Add these players to the already strong core that exists under Darryl Sutter, and the Flames should right back to contending.
While the Flames obviously got better, so did the Oilers, and as of now, Alberta is still their province. However, it seems like a new chapter of the Battle of Alberta is ready to start. Players like Matthew Tkachuk, Zack Kassian, and Mike Smith defined the aggressiveness that permeated through the last few years, and while I doubt all the animosity between teams will leave with them, the rivalry will definitely be different moving forward. Huberdeau and Weegar are Eastern Conference players who have no history with the Oilers and will need to become acclimated to the intensity in these rivalry games, considering it may be a bit different than Florida. Nazem Kadri may still have a bone to pick with Evander Kane after Kane's hit on him in the Conference Finals that got him suspended and limited Kadri for the rest of the series. Aside from this, 2022-23 will be a new experience for the Oilers. For the first time in quite a while, they should have a target on their back, and after their playoff performances, the whole hockey world should be aware of what McDavid and Draisaitl are capable of.
Just a few months after decisively winning the last chapter of the Battle of Alberta, Edmonton will have to prepare for the start of a new one. McDavid vs Huberdeau, Woodcroft vs Sutter, Campbell vs Markstrom, Kane vs Kadri, you get the point. They might only play each other three times in the 2022-23 regular season (NHL scheduling should be ashamed) but I don't think it should take too long for this rivalry to get going.