Over the last few years there are certain things that will undoubtedly happen to the Rangers throughout the course of the season. Last night I went to the Rangers game and pretty much every cliche in my mind happened, for the good and for the bad. So without further adue, here are the 5 most CLASSIC Ranger happenings that occured last night.
Nick Holden Scores After I Talk Shit About How Bad He is
Offff course. This has been a reoccurring theme in my life ever since I was a kid. Growing up, I was a HUGE Yankees fan. I liked pretty much every player on the team except Jorge Posada. I don't know what it was about him but I couldn't stand him. The thing that really pissed me off is everytime I would say, "Oh great Posada is up, that's a free out" the asshole would go out there and hit a bases clearing double or a moonshot to the bleacher creatures. These types of things have been happening ever since and again, it happened last night. Just after I was done telling the guy next to me that I think Holden would play second line minutes in my local beer league, the dickhead goes out and scores a goal to make the garden jump. Classic? I think so.
I Forgot Rick Nash Was On The Rangers Until 10 Minutes Left In The Game
Do I think Rick Nash is a good hockey player? Absolutely. He is large, he plays solid defense and for such a big guy he can really skate. However, there is no reason in the world that a Rangers fan should forget that Rick Nash is even on the team. Nash makes 7.8 million dollars a year and has 19 fucking points in 40 games. 19 POINTS ARE YOU KIDDING ME. The Rangers are paying 7.8 million dollars to a player who isn't even on their first power play unit. Typical Rick Nash Shift: Chip puck out of zone, listen to Michelleti jizz his pants about how great of a player Nash is, Nash retrieves puck, drives wide into the corner boards, takes himself out of the play, falls, line change. I would normally watch this on TV but it's actually pretty funny when you see it in real life. Classic Rangers, classic Nash, laugh out loud stuff.
Henrik Lundqvist is The Back Bone
It's incredible to watch this man play. He is so fundamentally sound, so methodical about his approach and has an aura around him telling you that the guy protecting the cage is the real leader of the New York Rangers. The only reason the Rangers didn't lose by 20 last night is because of the beautiful man from Sweden. Three things you will hear or see at a Rangers game NO MATTER WHAT are Potvin sucks, Dancing Larry dancing like a fucking idiot and the chants of "Hen-Rik!" God damn, that man deserves a cup so, so bad. I think I'm finally starting to feel how Bruins fans felt about Ray Bourque.
Marc Staal Scores On His Own Net And Goes -2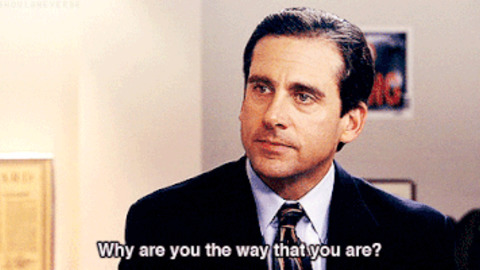 If you have followed The Morning Skate you know by now that my arch rival is the dumb read headed idiot from Thunder Bay. I once tried writing a blog about Staal which actually was just an hour and a half of my life typing "I fucking hate Marc Staal" on repeat. Sometimes I try and be positive because I think positive vibes do exist in the universe but this guy makes me want to jump out of my bed room window. The ONE GAME I go to Marc Staal decides to take a head first slide into the net, scoring a goal for the Blackhawks.
Yes, I'm aware that he was pushed and the goal shouldn't have counted. Having said that, there is nothing in the world that this man could do that won't unreasonably piss me off.  I don't know what I did in my previous life to warrant Staal being placed on my favorite team of all time but I just want to tell the big man upstairs that I am incredibly sorry and this is a cruel and unusual punishment. No one deserves this.
Those Aren't Boos, They're Zuucs! For Zuccarello!
I've always been a heart and soul guy. Growing up, my favorite Ranger was Jed Ortmeyer. While not the most skilled player, Jed Ortmeyer played his bag off night in and night out and I couldn't get enough of it. Fast forward a few years and we're blessed enough to have this guy on our team. It's pretty fucked up that the guy with the most heart and the most grit on the team is only 5'8. My favorite part of last night was when Zucc was being Zucc and mixing it up behind the net. The guy doesn't back down, ever. It's just not in his DNA. Every single player on the team, most noteably Rick Nash and Chris Kreider, should watch some video on how they should play– essentially a Mats Zuccarello highlight reel. Can you imagine if either of these players played like Zucc? With the size they bring to the table, Nash and Kreider would DOMINATE the league if they had the balls and grit that Zuccarello has. After the game I was lucky enough to meet my hero and needless to say I was STOKED.
Not many people actually get to meet their hero in life so this was beyond a special moment for myself. Zucc, I love you man.
Quick shoutout to the Queen too for getting us the tickets and for waiting outside the rink to meet the boys. A+++++++++++++++++.