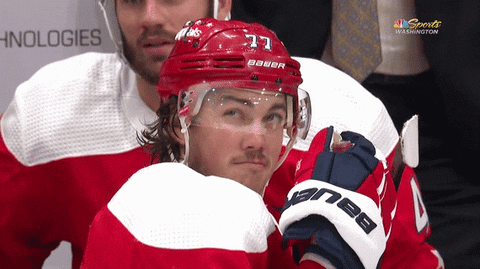 As I mentioned previously I think the first thing the Caps will have to address going forward is the goalie situation with Samsonov playing at a high caliber and Holtby being shaky at times. Most teams don't have this issue, so this is a good problem to have choosing between two solid goaltenders. If the Caps don't trade Holts it looks like they will just ride who is hot between the pipes week by week and going into the playoffs.
Could Ovi capture his 9th Rocket Richard trophy? Ovi is currently on fire and I am hoping this All Star break just gave him the rest he needs for the second half and not cool down his play. Ovi is currently in second place behind Boston's Pasta. Personally I think it is very likely that he takes home the hardware because Ovi is utilized more on the PP than Pasta is, but currently the Caps PP isn't what it should be (20.3%) which is tied for 11th in the NHL. So if the Caps can fix their PP it will lead to more goal scoring opportunities for the GR8!
Could John Carlson become the 1st American to win the James Norris Memorial Trophy since 1996 (Chris Chelios)?! Carly is currently 12 points ahead of the next best defensemen (Roman Josi). He should easily pass his career best in points of 70 in the 18-19 season which he is only 10 points away from that currently. He also can pass his career best in goals(15) in the 17-18 season which he is only two goals behind that career best. Carly is also only 10 apples away from passing his career best(57) in the 18-19 season.
Overall the Caps are the favorite to win the Metro right now barring any crazy trades or injuries. Personally, I think the only teams in the Eastern Conference I am worried about in the playoffs are the Bruins and the Lighting because they are still just as stacked as they were last season and are continuing to excel this season. For the Caps to reach their 2nd Cup Final I think they need to solidify their back end of the ice and increase their PP numbers! Looking forward to what occurs during the second half of the season and we want more Wins and Play MEDUZA! eqJFvn9n_xKg#RockTheRed #ALLCAPS