A little different look behind the bench for Vegas after a covid scare. The only thing I really notice besides Pete DeBoer not behind the bench is the bulky white N95 masks which makes me wonder why the substitute coaches don't get to wear fancy team masks.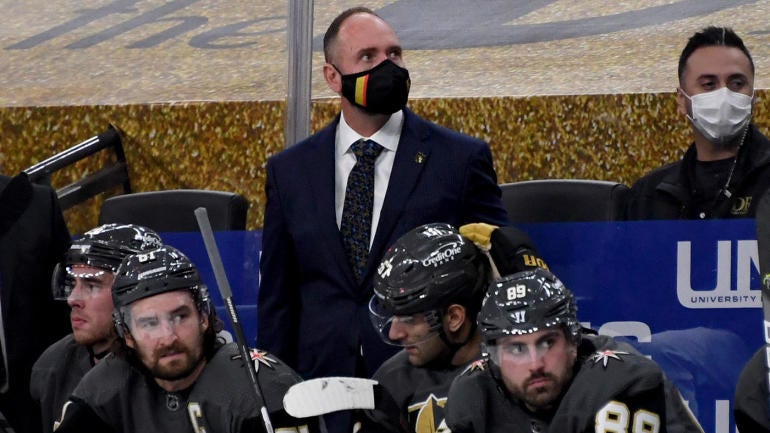 Alex Tuch started the scoring off with a two on one breakaway. Former Vegas Golden Knight David Perron scores a pair followed by Jaden Schwartz for an action packed opening period. After trading goals in the second period the game really starts to heat up. Jordan Kyrou scores his third goal of the season after picking the pocket of former teammate Alex Pietrangelo and beating Robin Lehner on a brilliant individual effort. If Kyrou is still available in your fantasy league he needs to be picked up!
Mark Stone hits Tyler Bozak from behind for interference and after the Blues fail to produce on the power play Justin Faulk takes exception as we have the first fight in the West Division (brought to you by Honda). Bozak never returned after that hit and the penalties seemed to just keep coming.
Stone was not expecting to fight and I can guarantee you the guys on the bench were fired up for Faulk. I love this play because Justin Faulk has really stepped up this season and it shows in all aspects of the game. The Blues are going to need more of this from Faulk with the departure of Alex Pietrangelo.
Vegas cuts the lead to one after converting on the two man advantage to open up the third period scoring. Alex Tuch has another breakaway on the leftover powerplay but fails to score this time as Jordan Binnington shuts him down. Max Pacioretty gets the hat trick and ties the game with under three minutes left in regulation.
Alex Pietrangelo's first game against the team that drafted him fourth overall in 2008, after spending twelve years with the Blues. It's bitter sweet and I wouldn't want the former captain anywhere else. Number 7 has now been worn by three different players in Vegas Golden Knight history, Jason Garrison and Valentin Zykov were the first two. Lehner, Stone, and Pacioretty all had wonderful words about playing their first home game at the fortress and it seems like Alex Pietrangelo gets ripped off. Regardless if there's fans or not it looks and sounds like Pietrangelo feels comfortable wearing the grey and gold.